Brad's Light Bulb Moment...
"All we own is our story"
An indigenous friend shared this traditional view with me, and my heart melted. I use to dream of a world where I had a lot of stuff. Financial and time independence became my focus, at times at the cost of social well-being. I was sold a cheap version of success, and chased it until I left Alberta and transferred to UBC, Vancouver.

What is unique about my story? I'll ask you to consider this as you read. All we really own at the end of the day is our story.

For the majority of my life I have felt misunderstood. My money making efforts were seen as self-righteous, but I always knew money would help me increase my impact so I kept on my path of paying for university and getting a degree for credibility and networking. Today, for the first time in 28 years, I have found my Ikigai, or reason for waking up in the morning, which full captures my true essence: Prosocial Coaching.

What is prosocial?

This is a term used to describe any behaviour which benefits another.

When I watched my family lose all our savings, about $1.7M overnight to mental illness, a light-bulb turned on.

I realized money is a form of energy or power, and evil is using this power to benefit the self. Unfortunately this describes the behaviour of top leaders in multiple industries heavily influencing our well-being, our level of consciousness.

As I moved through university, from Grant MacEwan to UBC, graduating in 2014, my awareness expanded, creating a massive shift in my needs as an individual. To pay for it all, I went into 900 people's homes and sold a bunch of knives. This was also mind-expanding.

Slowing maturing spiritually, I discovered the most joy comes from acknowledging the interconnectedness of all things, and living from this context. I started imagining a strategy to meet the basic needs of 7.6B people on this planet, in a way which aligns with Natural Law. Permaculture shifted how I eat, and at the core of my impact, how I spend and earn money, cash flow.

The solution? Neuroplasticity.

Neuroplasticity become my next area of interest, which inherently brought along the exploration of different ways to fire neurons whether it be through listening to music, entering flow state or using plant-based medicine.

The more I learn about the human condition, the more I am seeing we suffer less when we align ourselves with reality, with what is.

Our ability to create, and rewire our brains, is where I spend most of my time.

My mission is to increase the awareness of others, empowering individuals to make decisions aligned with their authentic being.

And where am I going with all of this?…

Mental illness changed my life, and without stigmas, my father may still have his retirement.

My vision is to change the face of mental health, and increase social mobility around the world.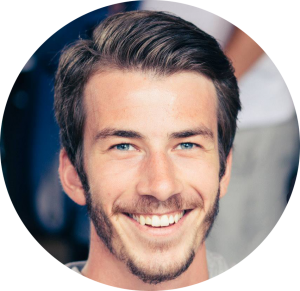 $2500 of Birkman Training through MentorShift

Don Panton, a corporate trainer for more than 35 years, and another mentor of Brad's, guides him with The Birkman Method® for larger projects. Don has been an invaluable resource to expanding his vision.

Jonathan Michael has poured his 25 years of experience into saving Brad thousands of dollars, and being a true catalyst to his success. Recently, they defined their relationship as 'symbiotic'. Truly a unique relationship in Brad's life.
II. Entrepreneurial Efforts:
Responsible for $250,000 of CUTCO knives sold to fund five years of university through referral-based marketing. This translates into being referred to 900 prospect buyers; giving each a 1-hour in-home presentation, resulting in approximately 600 buyers (avg. order $350, max $5200)

About $60,000 came from running a brand office, where he personally hired and trained 58 representatives on how to sell knives for a summer

Managed the logistics behind leasing and furnishing 750 sq. ft. office and filled the space after becoming a recruiter for a summer. Everyone who was looking for a job in Kamloops 2010 knew Vector Marketing was an option.
III. Bachelor of Commerce

, Sauder School of Business, UBC

Finance Coop transferring to Marketing

(March 16th, 2012, the day Brad met his mentor )

First and second year were at Grant MacEwan University, Edmonton, AB

Capstone Sauder Course: COMM 486R – General Management & Leadership

Led by Bob Elton. Previously the President & CEO at BC Hydro for over 6 years; now holding high level executive positions at Vancity in Vancouver. What Brad appreciated most about Bob was his financial desire to lead in the community while focusing largely on the social development as well. Bob coached young girl's soccer for about 20 years. A significant leader and role model in Brad's life.

The course was double credit and involved creating recommendations for more than 45 Harvard Business Review cases in four months amongst a self-chosen team. Four of of the cases were to be completed in a 24-hour period, generating a deliverable of a 20 slide deck.

This course required extensive preparation and commitment; and eight books to be read before the course started.