Brad's Light Bulb Moment...
In March 16th, 2012, Brad Gretzinger  became an apprentice under the guidance of Jonathan Michael, a Leadership Coach & Senior Birkman Consultant for more than 25 years after an afternoon and referral from David Bentall.
Over the next few days, Brad declined two summer internships and transferred into Marketing from Finance Co-op. His degree became an incubator for his brand as a personal coach. He began to study the mind in the context of commerce, while picking up as many psychology electives as possible and starting a club developing students. From this day forward, his undergrad degree became centred around launching a coaching practice upon graduation.

His most valuable take-away in 28 years of life is to focus on our language (more on this in The Conversation).
Recognizing his need for growth and experience, Brad immediately started a club centred around developing student leaders in the fall of 2012. Next he hired a coach for 3 months ($500/month) to kick-off 2013, around full-time classes. Later in the fall, he invested $1500 for a training program to administer and interpret The Birkman Method®. Luckily, Brad had found an entrepreneurial venture with CUTCO knives to self-fund his degree. He was referred into approximately 900 homes around university, which led to 600 new CUTCO owners.
Backing up a bit…the long version…
Brad was destined to become an entrepreneur. From shovelling driveways after class earning $200/evening, to working at a campsite during his summers, starting at the age of 14. This allowed him to purchase a motorcycle (Yamaha R6) at 16; which went from 0-60mph in 3.77 seconds. This year, he adventured solo on a 1000km road trip from Kelowna to Edmonton.
Extreme sports came with risk. The summer after graduating high school, Brad broke his right arm, had a major concussion, and broke his right ankle in a matter of 30 days in 3 different skateboarding accidents. Luckily, he had a powerful support (Mom) and was gifted a book The Power of Positive Thinking by Dr. Norman V. Peale, and shortly after, Rich Dad Poor Dad, his favourite book by Robert Kiyosaki.
Mindset + Cash Flow. Brad was ready…

These two books created the paradigm shifts necessary to become a performance coach, or 'human scaffolding'.
Fast forward to the final semester of his degree, Brad launched his coaching practice by offering the Birkman report at the going rate, and his time for free. Soon, he had enough testimonials to start charging an hourly rate. Later that fall, he experienced coaching a war veteran of 15 years into discovering her purpose and a fulfilling career. Based on the amount of value Brad added to his clients, he began charging accordingly.
***Since February 2014, Brad has had the honour of coaching nearly 100 people around finding what makes people come alive and helping them get paid for it (Ikigai). Brad's mission is to increase the awareness of influential decision-makers so their choices are aligned with the ~7.442 billion people on this planet. The legacy Brad would like to leave behind is connection, seeing a world where everyone's basic needs are met, all 7+ billion.

In his spare time, you can catch him in flow state at the beach, slacklining, skateboarding, or attending events focused on building connection. Live music events are his happy place, whether it be a 22 person jazz ensemble, or a DJ spinning for a massive crowd in a forest.
Brads' heart is in music – the constant denominator in his life. From a young age his mother took him into choir after hearing him sing to the family dog. He launched off as a percussionist on a 5-piece  drum-kit, then picked up a guitar for university, and acquired a set of keys post-graduation. Piano seems to be to right balance of melody and rhythm in an instrument, and like a drum kit, all limbs are involved. This links back to his 99/99 score in Birkman's music interest category.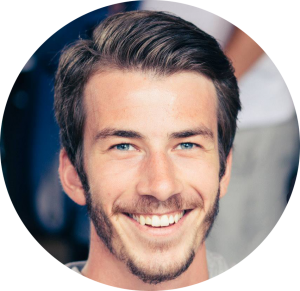 $2500 of Birkman Training through MentorShift

Don Panton, a corporate trainer for more than 35 years, and another mentor of Brad's, guides him with The Birkman Method® for larger projects. Don has been an invaluable resource to expanding his vision.

Jonathan Michael has poured his 25 years of experience into saving Brad thousands of dollars, and being a true catalyst to his success. Recently, they defined their relationship as 'symbiotic'. Truly a unique relationship in Brad's life.
II. Entrepreneurial Efforts:
Responsible for $250,000 of CUTCO knives sold to fund five years of university through referral-based marketing. This translates into being referred to 900 prospect buyers; giving each a 1-hour in-home presentation, resulting in approximately 600 buyers (avg. order $350, max $5200)

About $60,000 came from running a brand office, where he personally hired and trained 58 representatives on how to sell knives for a summer

Managed the logistics behind leasing and furnishing 750 sq. ft. office and filled the space after becoming a recruiter for a summer. Everyone who was looking for a job in Kamloops 2010 knew Vector Marketing was an option.
III. Bachelor of Commerce

, Sauder School of Business, UBC

Finance Coop transferring to Marketing

(March 16th, 2012, the day Brad met his mentor )

First and second year were at Grant MacEwan University, Edmonton, AB

Capstone Sauder Course: COMM 486R – General Management & Leadership

Led by Bob Elton. Previously the President & CEO at BC Hydro for over 6 years; now holding high level executive positions at Vancity in Vancouver. What Brad appreciated most about Bob was his financial desire to lead in the community while focusing largely on the social development as well. Bob coached young girl's soccer for about 20 years. A significant leader and role model in Brad's life.

The course was double credit and involved creating recommendations for more than 45 Harvard Business Review cases in four months amongst a self-chosen team. Four of of the cases were to be completed in a 24-hour period, generating a deliverable of a 20 slide deck.

This course required extensive preparation and commitment; and eight books to be read before the course started.